Let's not pretend that just because you learn a little bit about how to manage your finances it gives you the right to judge how people spend their money.
You look at them and think why do they spend so much on holidays or gadgets.
How do they maintain this extravagant lifestyle, whether they will have enough safety net taken care of.
The truth is that you are not them. You and they are each unique.
The problem is what you deemed as wasteful is very precious to another person just because you don't understand it.
Starbucks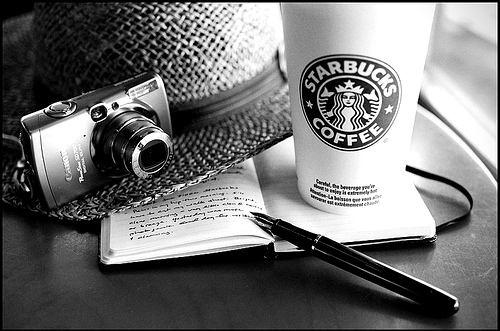 Even my best friend who works in a bank thinks a 3 to 4 cups is extravagant. Why not spend $1.2 daily on coffee from a local coffee store.
A tall frap will cost SGD 5.80. That will be $17.40 a week. 52 weeks will cost $904.
Pros
Starbucks coffee comes with exotic flavors, beans that you can't find if you get it from your cafeteria or even Ya Kun.
The level of sugar in the coffee perks up an otherwise shitty work day and sugar have been shown to be important when the brain is drain after excessive thinking.
And Starbucks have more than enough of them.
Without Starbucks, a lot of folks cannot working for long hours, or be motivated for it.
Cons
Unfortunately, the excessive levels of sugar is also what lead to obesity, and to a large extent, cancer cells is shown to feed off sugar. Basically, sugar is the food for it.
So why are you spending money feeding you stuff which will eventually make you uninsurable and worse, escalate your future medical costs?
2 Overseas Holidays
For a 30 year old, Singapore would have been pretty boring by now. With the purchasing power, plus the energy, you HAVE to go for holidays. If you don't get out of the country, you are some kind of freak.
There are the niche group that will not go for only 1.
They can't wait to be out of the country. At least 2 trips per year.
Pros
When your life is about paper pushing, email war fare, decimating brain cells for a good salary, the experience of a change in scenery, cultures vastly different from ours and companionship with people you get a long with, are what you very need every half a year.
It is even better when budget airfare is so affordable and that what was once expensive destinations like Europe and US are cheaper nowadays.
If you are in a highly stressed job, not taking something like this will really crack you faster than you realized.
Cons
On the opposite end, I have a friend who could never understand why you would want to spend "effort" travelling around, facing "challenges", potential hiccups not to mentioned loss of possessions when you can understand and experience the culture at the comfort of your computer or TV.
It turns out that some of the greatest joys experienced by folks is not during the trip, but during the time spent planning it!
So why not just plan for a trip that you don't expect to go?
Getting your dream car
In Singapore, the natural progression after graduating from tertiary education, coming out to work, is to get a car.
And for many folks the car have always been a dream.
It becomes a shitty problem when cars are so expensive nowadays.
A little bit better are those who likes bikes since the cost is lower.
Cars, under the new rules are costly due to the fact that the financing can only take up to 5 years instead of 10 years and COE is costly.
Pros
Many folks were "poisoned" since young from the numerous commercials, talk with friends and adults on the joys of owning their own vehicles.
In Singapore it used to be that a car is a luxury, but with public transport being so crowded, once you start a family, it is just not possible to not have a car.
Having a vehicle will enable you to save precious time. This is especially true, when your child is taken care by your parents and daily ferrying from one location to another will be dramatically longer without it.
Cons
And there are the group that have taken public transport all their life and cannot fathom why would people spend so much on something that depreciates in value over time.
On top of that, you can't catch a break and have to concentrate during journey driving. You also faced elevated level of stress (navigating on the roads have been said to raise stress level to that of fighting soldiers) not to mention increase material damage if you are not careful.
Capturing the moment
Somehow I am always surrounded by friends who are into photography. This used to be a much more expensive hobby when cameras cost more.
Nowadays technology have caught up so much that cost of equipment have gone down.
Still, it remains one of the most popular hobbies.
Cons
For the folks who are just not into it, they cannot figure out why their friends will spend so much on specialized lenses just to capture specific settings.
Pros
Those who understands it sees the value of freezing time in beautifully captured situations that you can tell your kids or your grand kids what they couldn't experienced.
Photography is also one of those hobbies which to some, has a specific focus on honing a skill to the level where it differentiates them from the average folks the more they learn and practice their art.
The insatiable friend
You would realize that most of these listed spending are not 100% necessary. So these are classified as wants.
The issue if you have a friend that really suffers financially from this is when they don't just enjoy 1 or 2 of the above, but all of them!
In a person's disposable income, there are only a limited amount that a person can devote to spending like above.
The exceptions are those who earns a good income and these spending can form a smaller portion of their disposable income.
If the friend is not a high income earner, then it is likely that they are not spending on certain mandatory necessities or not paying themselves first.
Chances are that you want to offer some good advice and chances are they are not ready to receive it.
Summary
As financial savvy folks, we sometimes couldn't fathom why their friends would indulge in the way they do.
We have to realize that personal finance is only one discipline that you have to grasp and that there are other disciplines that you may be deficient at, and you have not come to see the importance.
We could very well not learn the true value of wellness, memories and experiences over wealth.
Not comprehending them might make us chide our peers from spending excessively on them, or that they are stubborn mules for not listening to you.
You could be not listening to them on what is important as well.
Edit:
I just thought this quote from a Straits Times article on what is considered rich is timely:
Ultimately, wealth should not just be measured in material terms. As the ancient Greek philosopher Epicurus once opined: "Wealth consists not in having great possessions, but in having few wants."
Make use of the free Stock Portfolio Tracker to track your dividend stock by transactions to show your total returns.