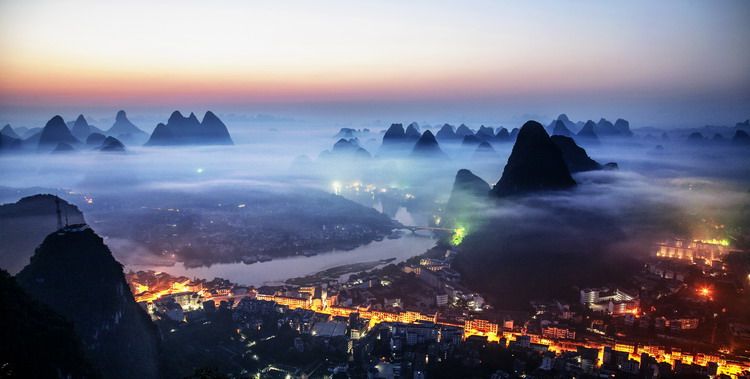 A bird's eye view in the evening of Yangshuo county, one of the places linked by Guiyang expressway. Photograph by Qin Zhangge
Outstanding No of Shares: 1163 mil
Current Share price: SG$ 1.05
Current Dividend per share: SG$0.07 (6.6% dividend yield)
Outstanding value of unconverted Convertible Bonds at SG$0.77: HK $499 mil
China Merchant Pacific Holdings (CMHP), an SGX listed toll road company, announced this week of the proposed acquisition of 3 toll roads, which will substantially enlarge the asset based of the company.
Currently, CMHP's assets consist of 3 toll roads spread out around China. It does not come as a surprise to shareholders following the company over the years that they will make acquisitions.
What is usually intriguing is how they did it, and how it will turn out.
The announcements:
This announcements does not have much figures to work with, so majority of my narrative will be rather qualitative. There are currently 2 broker reports on CMHP, both liked the acquisitions with DBS providing more numbers projections. As far as I know, it is likely the analyst are trying their best to project and for investors, the best is to use it as sensing but not trust them too much as the real traffic volume, revenue, profit is like to look very different.
The acquisitions
The acquisitions are conditional offer to operate three roads:
Guixing Exp (桂林至兴安高速公路) – 53.4km – HK$1.78 bil – between Guilin and Xing'an County
Guiyang Exp (桂林至阳朔高速公路) – 67km – HK$1.17 bil – between Guilin and Yangshuo County
Yangping Exp (阳朔至平乐高速公路) – 39.5km – HK$1.07 bil – between Yangshuo County and Pingle County
The total purchase price will come up to HK$4.02 bil. CMHP would need to come up with money to pay for it. Do note also that, in total the roads have HK$ 4.9 bil of underlying debt that CMHP would need to service.
The google map above shows the three roads together with Guiliu, which is 40% owned by CMHP. Guilin is a famous tourist attraction. I tried to find out if there are industrial manufacturing in the city, and it seems tourism does account for 20% of its GDP, so this means that should be vibrant.
It should be noted that, among all of CMHP's toll roads, Guiliu had the most astounding traffic volume growth rate in the short span that we observed:
2008: -2.5%
2009: 12%
2010: 9.8%
2011: 9.2%
2012: 13.4%
2013: 15.9%
2014: 2%
Compounded growth over past 7 years: 8.4%
Of course volume growth does not determine profits, since the vehicle mix is also important. The Goods vehicle usually forms 70% of the revenue although their traffic volume is 30% of it.
Non of YTW, Guihuang, Beilun had that kind of growth rate since we have the data. It gets worrying when we see the low growth of Guiliu in 2014, due to the change in road network and traffic diversion by high speed train services.
Guiyang and Yangping started operation in 2008, while Guixing started operation in 2013. One benefit of this acquisition is to lengthen the average concession period of the whole portfolio. The first few years of a toll road are usually when they grow the fastest. In this case, both Guiyang and Yangping would have 6 to 7 years to grow, while Guixing should have its best growth years ahead.
The above table shows the purchase price and the last profit before tax, MI and exceptional. The first observation is that Guixing cost much more than the other 2, perhaps due to its longer concession expiry.
There has to be some high growth there for Guixing, if not its hard to justify majority of the purchase price going to Guixing. The remarkable thing about Guixing is that it is able to achieve a positive PBT of 44 mil in a short period of 2 years, while if you compare to Jiurui, which started in 2011, it was acquired at a loss, and only become profitable after CMHP refinance the debt.
The best performing road among the acquisition is Guiyang with a 9.32% ROA. If they have the choice to purchase one, I wouldn't mind buying only Guiyang.
Yangping is the strange one. It is just an extension of Guiyang to Pingle County from Yangshuo, opened at the same time as Guiyang yet it is still loss making. Was the growth less than expected, or it is in the same situation as Jiurui, where its held back by high debt.
If you put the 3 side by side, Yangping is the shortest, most unprofitable, which was operated for same length as the profitable Guiyang, why does it cost almost similar to a very profitable Guiyang?
The hunch is that perhaps CMHP do not have much leeway. They cannot purchase only the good ones without taking on a poor one.
Another guess is that they have a game plan ahead. Since now they owned both Guiyang and Yangping, they can move the toll stations to somewhere more profitable and sensible after analysis.
With all 4 roads, CMHP control toll roads that are entering and exiting Guilin by land. These roads also link Nanning, the capital of Guangxi with the Quanzhou area after Xing'an. With Guiyang and Yangping, they tap into the traffic coming from Guangdong.
The rationale of why the 3 acquisitions, why Guilin of all places, why purchase Yangping, more color on Guilin, Xing'an County, Pingle County, Yangshou should be some of the questions that the shareholders should pose to the management.
Dividends, Profit and Cash Flow
I don't think I would want to go into how these acquisition would boost profit or cash flow. The short answer is, I don't think it will and in fact there would be dilution or dividend impact:
2 of the 3 roads are either growing or needs work. Including Jiurui, that is 3 roads that are purchase but we will only see the effect (hopefully) down the road
The acquisition plan looks for rights issues to a certain extend. This would mean CMHP need more cash flow to pay the S$0.07 dividend
The alternative plan is through share placement, which would mean a certain level of dilution
The underlying HK$4.9 bil in debt will need cash flow for interest expense and principal amortization
To fund the purchase CMHP will look to approximately HK$1.64-3.7 bil in corporate debt. This will also need cash flow to service interest expense and principal amortization
Tax expense will go up
The net profit for this year should be around the HK$870 mil region, which is up from HK$739 mil. However, this will be very much due to the bump from HK$218 mil in negative goodwill.
This 3 roads will add an aggregate of HK$113 mil to PBT.
CMHP will refinance the debt at the corporate level with cheaper carry trade loan. This we can forecast a 2% interest expense saving on HK$4.9 bil in debt, which is HK$98 mil. This brings PBT without growth to HK$211 mil.
At a tax rate of 25%, Net Profit after Tax perhaps will be HK$158 mil.
The interest expense on the corporate level, to finance the HK$4 bil acquisition will cost either HK$49 mil or HK$111 mil depending on the debt undertaken.
The end result may be an increase of HK$47 mil in net profit, with a lot more dilution after purchase of 4 roads.
CMHP in their announcement proposed 2 acquisition plan, which involved debt and rights issue. Both would result in more number of outstanding shares. From the table, the cash flow to pay the existing 7 cents of dividend would increase to HK$ 590 mil or HK$ 740 mil.
In this case, Plan 2 would definitely result in dividend of 7 cents to be cut, since companies in China can only pay out dividend from earnings. Plan 1 is the favored one since the payout ratio would higher but it is still possible to pay out the dividend from perhaps HK$700 mil in profit.
The conclusion is that, if the 4 roads do not grow, Jiurui and this acquisition will look very bad and should not have been made in the first place.
They will grow, as what management say would track GDP growth in China, the question is more of the quality of growth.
To a certain extend, I believe that there are operating leverage for the expressways, where an increase in revenue will add more to profit before tax than expenses, since maintenance effort should not go up proportionally.
Guangxi Guilin Region Potential Growth
In the Guangxi region, Nanning is the capital of the Guangxi Zhuang Autonomous Region. It is also the most populated. The next 2 most populated region is Liuzhou and Guilin respectively, which is where Guiliu connects.
Liuzhou Population (growth):

1990: 636,828
2000: 1,043,458 (5% per annum)
2010: 1,410,712 (3%)

Guilin:

1990: 424,373
2000: 814,246 (6.7%)
2010: 963,629 (1.6%)

Xing'an:

1990: 34,796
2000: 28,265 (-1.9%)
2010: 97,693 (13.2%)
Guiliu for me, grew well because of commerce as well as tourism from the folks in Liuzhou looking at Guilin as the closes quiet leisure destination from the city. It is disappointing that CMHP did not own a larger % of Guiliu. Guiliu contributed HK$160 mil in profits on 40% ownership. If its full ownership it would have contributed HK$400 mil in profits, which would far outweigh Yongtaiwen!
Since a rail system have been put in place, we should expect growth to slow down to that of the population and GDP growth of the region.
Xing'an, Yangshuo and Pingle are nearby county which is quite unlike Liuzhou. I do not think we would see the kind of growth that parallels that of Guiliu.
Particularly, Guiyang is doing well and I suppose we can see that Yangshuo is becoming more and more of a must visit part of Guilin if you are a tourist. The Lijiang river, from Guilin to Yangshuo, is one of the must visit attraction, a UNESCO World Heritage site candidate. (even though the best way to appreciate it is to take a ferry on the river…)
The growth of Guilin have not been on pace with the rest of China:
Despite its fame, the city lags behind the national average in per capita GDP and average net income. It is also still on its way to expanding the tourism market while finding a balanced model to develop the industry.

Last November, the National Development and Reform Commission approved a series of tourism plans that "will be principles to guide the city's socioeconomic development, for now and the near future", said Zhao Leqin, the top official in the city.

The blueprint calls for Guilin to become a world-class sightseeing destination, a national model for eco-civilization, a pilot development zone for tourism innovation and a regional hub for cultural exchanges.

Balanced growth

In addition to tourism, the guidelines also cover modern agriculture and services, low-carbon industries, transportation and logistics systems, environmental protection and social management.

They also grant preferential policies to Guilin for land management, taxation, financing and investment.

Zhao now envisions an industrial system that integrates tourism with other sectors as increasing attention is placed on improving livelihoods, market administration and eco-friendliness.

The city government will first focus on improving services and infrastructure such as airports, railways and highways in the coming three years, he said.

By the end of 2015, tourism is expected to generate 20 percent of local GDP, while the service industry is projected to contribute 40 percent.

Over a longer term, the city's goal is to become a world sightseeing and resort attraction and a platform for international tourism cooperation and cultural exchanges. Tourism will contribute more than 25 percent of the local GDP by 2020.

By that time, the plan calls for the city to have an economy centered around tourism that is augmented by balanced modern agriculture, high-tech industries and advanced manufacturing. It will also develop a number of influential brands in tourism, culture and exhibitions.

'Big gift'

The national strategy to develop the city into an international tourism attraction is "a big gift given at a good time", said Mayor Huang Junhua. "It will be a new engine to drive Guilin's economy."

The city government has mapped out 23 functional areas, each with different focuses, and introduced many projects in tourism, infrastructure and services.

In the Lingui New District, a pilot zone for innovative policies established in 2007, the administration planned 276 major projects last year with a combined value of nearly 20 billion yuan ($3.2 billion).

This year, the city government will invest 56.6 billion yuan in 584 projects. It will also host a number of international activities such as the seventh UNWTO/PATA Forum on Tourism Trends and Outlook, the fourth China Guilin International Tourism Expo and the fourth Guilin International Scenery Culture & Tourism Festival.

Smaller-scale tourism promotion campaigns and festivals will be held in some districts and even suburban areas.

City plans call for improvements in the local transportation network including high-speed railways and highways that link the city with neighboring regions. It is also laying the groundwork for a bonded logistics park adjacent to the airport.
It looks like Guilin, together with Hainan and Yunnan have been provided favorable policies to grow these three places as tourist regions:
Guilin was endorsed by the National Development and Reform Commission, China's economic planner, in November, which means the central government will offer favorable policies in support of Guilin's development of its tourism industry.

Wang Wei, director of the social development department of the National Development and Reform Commission, said on Tuesday that special policies will be applied to Guilin to support its development.

So far, the NDRC has approved Hainan and Yunnan provinces as well as Guilin as three reform pilot areas, aiming to explore a way to develop the environment-friendly tourism industry instead of developing polluting industries. – Guilin Seeks tourist expansion, 2013
One of the main factors is that air and land transportation have not been well developed enough to encourage more to visit Guilin as a tourist destination:
Guilin's Liangjiang International Airport, which became operational in 1996, handles 5.8 million passengers a year, already above its capacity. Work started in November to achieve the capacity for 12 million passengers by 2020.

While modernization of the transportation system is bringing more visitors, the city has been trying every way to protect the local tourist attractions, especially the Lijiang River, one of the most beautiful rivers in China, which Zhao called "the soul of Guilin's scenery".

Guilin has been making progress in the ecological preservation, tree planting, and water protection in its upstream areas.

Despite Guilin's fame as a tourist city in China, Zhao admits more work still has to be done. It remains a challenge as to how to encourage visitors to spend more time in the city. Domestic tourists spend only on average 2.7 days in the city, and overseas tourists even less time.
Here are some more stuff that I found during my research
Debt Leverage
From the Financing Plan table, the debt to asset leverage will go up from 20% to 40% or 48%.
We do not have the eventual EBITDA figures, but I am estimating total EBITDA to be HK$2.4 bil.
The Debt to EBITDA ratio would increase from 1.75 times to 4.68 or 5.5 times.
Both Debt to Asset, and Debt to EBITDA shows that CMHP have moved from conservatively leverage to highly leveraged.
This looks dangerous and uneasy, but not so much if you look at how leveraged Cityspring and SP Ausnet was.
Assets such as toll roads, utilities are able to take on high leverage because their cash flow is predictable. When that premise is violated then things will start unraveling.
Having such high leverage metrics mean that, should any impact to 2 of their main contributing toll roads, they face some problems paying back the interest and principal (CMHP's debt is amortizing, compared to the REITs, business trusts where debt is rolled over)
In times of crisis, the ability to secure reasonable priced financing is also an important factor, and it will be interesting if their affiliated state owned bank China Merchant Bank have problems coming up with loans for CMHP.
The way I see it, CMHP should be spending some time to deleverage to HK$9 bil, where the debt to EBITDA is closer to 3.6 times and debt to asset 36%.
Potential for Dual Listing
The management have mentioned in the past that they don't aim to be small fries when they want to list on the HKSE. This acquisition enlarges the portfolio by 39% to 575km.
Recall from the last report I wrote:
Sichuan – 573 km
Jiangsu – 850 km
Shenzhen – 413 km
Zhejiang – 533 km
Yuexiu – 301 km
Anhui – 484 km
This deal makes CMHP the second largest private toll road company if it is listed on the HKSE.
The uneasy thought is whether they are growing impatient and was given a mandate by the parent, that they have to get it listed as soon as possible.
The intention is clear that they are aiming for it, for investors the question is whether CMHP will be rated better on the HKSE. Based on the valuation of the companies mentioned above, only Jiangsu and Zhejiang, the bigger ones trades at a higher price earnings ratio.
When the market runs wild, CMHP can be expected to match their price earnings, so the possibility of that premium based not so much on fundamentals are there.
Summary
Reflecting on the last 2 acquisitions, that is Jiurui and this 3 roads, this is according to what the management outline. It is not surprising. And you know its coming. The balance sheet is ready for it.
It is the manner of the acquisition that sits uneasy for me. 3 out of the 4 roads are work in progress, not immediately accretive, results in dilution of shareholders holdings and depends much on the management foresight.
If we are owner operators, and are privy to whether these are really outstanding opportunities which are distressed or presents great future growth, things would have been easier.
I came out of this acquisition not liking how it turned out. If the purchase is Guiyang alone or another Yongtaiwen, I probably won't make that much noise.
I guess there are more questions to ask of the management selection but also much monitoring of the growth of Jiurui and these 3 acquisitions. The appeal of CMHP is their ability to refinance at cheaper debt and as long as the acquisitions grow at greater the rate of interest rate borrowed or cost of equity capital, this investment is good.
If the growth rate disappoints over time, then this does not make a good investment. There are much known unknowns, and uncovering such unknowns such as the future potential of the region, traffic growth and commerce, tourism growth, it will present different perspective of whether there is value or this investment is overvalued.
Mean time do enjoy some of Yangshuo's Karst Landforms below!
Past Articles on China Merchant Pacific Holdings