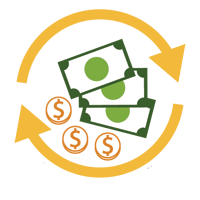 One of the most captivating aspects of wealth building is the ability to generate a stream of cash flow. Different people can make use of this stream of cash flow very differently.
The wiser ones appreciate and leverage on the cash flow they created effectively to create more wealth, while others look at it as a way to supplement them in times of need. Others become poorer as they were not able to sense cash flow well enough.
I been sharing my experience with prospecting businesses, specifically those that cash flow to a stream of dividends here at Investment Moats and many have asked when will we offer training sessions.
I think I have always been respectful for my readers that I do not offer some training that they do not gain full value from.
However, I could count on my hands how I have benefit immensely from various deeper insights that I gather from interacting with like minded mentors and fellow wealth builders.
As such, I decided to partner with my 2 friends, Christopher Ng and Brian to host a 2 hour Sharing Session Next Thursday.
The main agenda of the sharing would be on our experience in generating cash flow from stocks, what are the asset classes that we use to generate cash flow, and how they compare to some of the other common cash flow generating financial assets.
During the discussion panel you can quiz us on the nuances of creating a stream of cash flow from various assets, the potential and the challenges that you might not be aware of.
Think of this as you have played a game, have some frustrations that is impeding you to reach a next level, and you would hope someone explains something to push through that block to reach the next level.
It is what we hope this session is about.
If you can think of, we will try to answer, even beyond this topic, where we are comfortable with.
My 2 Fellow Bloggers
My friend Brian Halim writes at Forever Financial Freedom. Trained in finance, he have been sharing his experience on stock prospecting, the reasons for his acquisition and divestment in his very frequent posts.
Over time, he has build up a good portfolio of stocks based on the fundamental and behavioral approach. You can review his portfolio over here.
Christopher Ng, can be said to provide the content that bloggers themselves enjoy. He slaved as a corporate IT manager in various government organizations, MNC, for 15 years, embarking on a path of financial independence, before a generation of us understands that term. He is currently retired, studying for his second specialization in Juris Doctor Program in SMU.
If you want to hear the experience of someone who build it up, and are living off cash flow from stocks, sustaining a family with kids and mortgage, he is the person for you to validate if your financial independence plan is sound.
Join Us on 6th October – Limited Seats
We will be holding our sharing at Raja's Community College at #04-37 Bras Basah Complex from 7.30 pm to 9.30 pm.
The admission fee is SG$19 per Seat and there will be 50 38 18 Sold Out! (updated!) seats. Do let me know if you cannot get in to see if we can open another one soon.
Admission is on a first come first serve. You can Reserve Your Seat here Today.
P.S: If you have some questions that you are struggling with, do let us know so that we can make the sharing more fruitful. Send them to [email protected]