This morning as I was scanning through my feeds, I have been flooded by some startling numbers from Apple. Basically it was the second most profitable quarter for any company, trailing only Exxon Mobil's record quarter in 2008 due to the oil price surge.
Now the crazy thing about Apple is that it started off the quarter as a megacap, juggling position with Exxon Mobil as the largest stock in the world by market capitalization. The amazing thing is that its growth rate may still be able to accelerate.
The recent initiatives to move into textbooks on iBook shows that they are building a platform ecosystems that transcends technology into a way of life.
The obnoxious thing is that it's a closed ecosystem that Google does not want it to be.
As one tech commentator Gina Trapani says, "I prefer Google's values over their products, and Apple's products over their values. When either are compromised, we should worry"
Here are some crazy things about Apple
Crazy Growth Rate
– (splatf)
Basically the quarter was enhance greatly by a climbed in iPhone 4S. It vindicates the last poor quarter that people are really waiting for iPhone 5.
-(ReadWriteWeb)
More growth figures. For a megacap that is a crazy growth rate. The game has changed really, they are building an ecosystem that is mixing and meshing and giving you the iLifestyle that will just keep feeding itself! Its closed but it works!
Crazy amount of cash!
Now we know that tech companies based on intellectual properties have lots of cash. Oracle, Microsoft, Cisco have shit loads of it.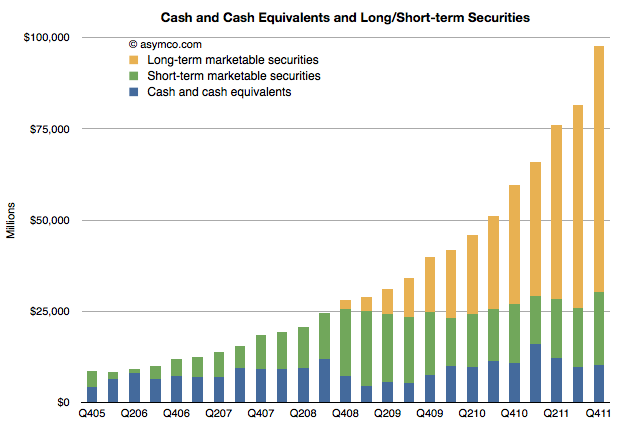 – (asymco)
Well, Apple added 38 billion out of their total 97 billion last year! How much is 97 billion? Enough to buy 474 of the S&P500 companies! Only 52 other stocks worldwide cannot be bought by that cash holding!
Conclusion
What I would really like to tap your brains is given this closed and integrated platform/network/ecosystem that feeds itself, how can the rest stop it?