As comedian Uncle Miltie Berle used to put it — "What the hey!" I'm including a few rather startling P&F charts on today's site. The first is S&P's Energy chart. XLE has turned bearish, and as of yesterday XLE has dropped down to exactly its rising trendline. We'll have to keep a sharp eye on what happens next on this one.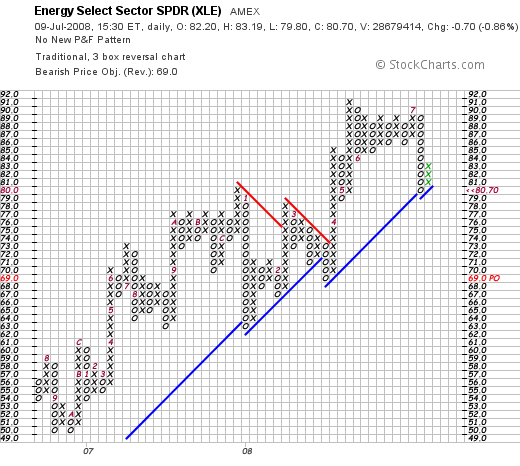 The chart below is the AMEX oil chart, and here there's no question about what's happening here. What you see is an almost perfect head-and-shoulders top and subsequent breakdown. So the world-shaking question is — has oil topped out? Off hand, and subscribers know that I've been hinting at this lately, my answer is "I think there's a fair chance that oil has topped out."
But why and how? My answer is that the entire world appears to be caught in an international slowdown or even a recession. If this is true, then world consumption of oil will probably slow down as well. That's my thinking, and that's what I believe the charts are telling us.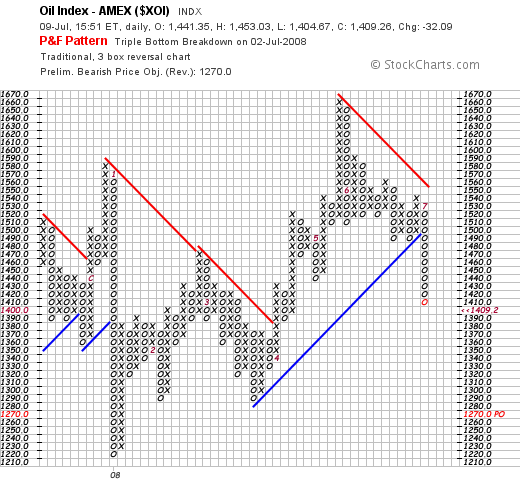 Wait, how can we know with certainty whether or not oil has topped out? All right, here are my criteria. If August crude declines to 131, I'd say that the odds are 60/40 that we've seen the high for oil. If August crude then sinks to 120 I'd say that the great bull move in oil is over.
But then another question arises. Instead of inflation being the major worry of the day, could the real worry be deflation? And is this what Fed Chairman Bernanke is really worried about? Is this why Bernanke is sticking firmly with his 2% Federal Funds rate — when central banks all over the globe are raising their rates?
The chart below shows the CRB Commodity Index, a reasonably good indicator of inflation or deflation. RSI looks bearish as does MACD (red arrows on both). Note how far the CRB is above its 200-day moving average.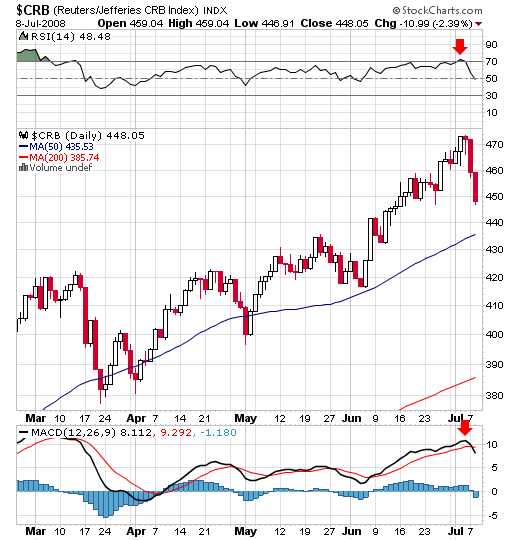 The wrap-up; at this point it's best to keep an open mind on the inflation/deflation question. The answer is not in yet.
Comment on yesterday's stock market action — the feature was the huge surge in the Transports due to the five dollar drop in oil. But breadth was not exciting — 2282 advances and 1129 declines. And up volume was only 75 % of up + down volume.
Stock market picture — And I use the broad Wilshire 5000 (weekly) for this study. Here we see that the Wilshire is oversold. RSI trying to turn up and MACD looking to turn up. The full stochastics are down in oversold territory. It's up to the market now.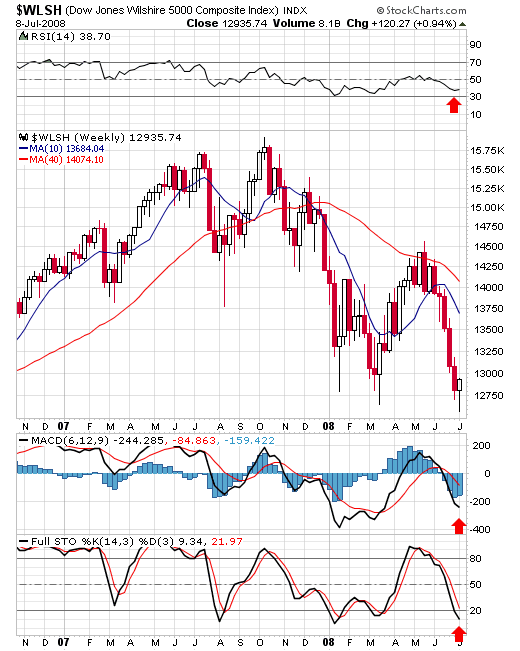 Gold — Despite a good rise in the full stochastics, gold has not done much on the upside. The best action for gold now would be to hold above the 900 area until gold can again become oversold. Bull action would be August bold breaking out above 942, although I don't think gold is ready to do that (weekly chart of gold below).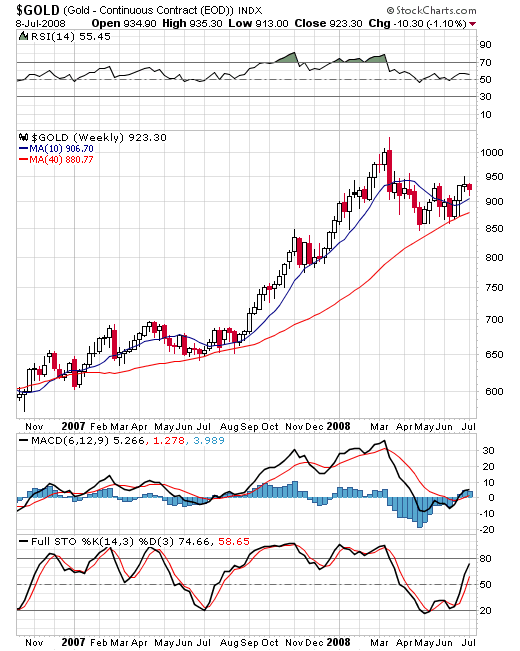 CONCLUSION — Not a nice day. However, the Transports did not break to a new low, and new lows on the NYSE contracted to 201. Other than that, it was another ugly day. And those financials, ugh! When are they going to stop going down? And who ever said that bankers were smart?
There are going to be more 90% down-days ahead before the market reaches bottom. This market stays oversold, and oversold markets that continue to decline are the worst kind of markets. Ah well, nobody ever said Wall Street was a one-way street.
Richard Russell
Editor-in-chief – DOW THEORY LETTERS