June 17, 2008 — June 17 (Bloomberg) — The U.S. economy may be suffering from its first bout of stagflation since the start of this decade, reports on housing prices and manufacturing indicated. Builders broke ground on 975,000 homes at an annual pace in May, the least in 17 years, and construction permits fell, the Commerce Department reported. Meanwhile, the Labor Department said producer prices jumped 1.4 percent, more than economists forecast. A further report from the Federal Reserve showed industrial production unexpectedly dropped 0.2 percent. ……………………………………..
Statistics and more statistics. Meanwhile, we're searching for a definitive stock market trend, searching for a bottom, searching for anything useful. But you can't hurry the market, no matter how much you want information, no matter how much you want a resolution, Mr. Market will take his own good time. And if you're itching to come up with an answer, Mr. Market will be only too happy to drag out the story. And if it seems to take "forever," so much the better — stew in your impatience, toss in your bed at night, grind your teeth — the market loves it. All your impatience will accomplish is to push you towards making a mistake. It will push you towards doing the wrong thing at the wrong time. Mr. Market loves impatience, he thrives on your impatience.
How about hints, are there any hints? Well, consider this — the two biggest problems we are faced with today are the continuing slump in housing and the continuing troubles of the banks and the financials.
OK, if that's where the trouble is, let's look at them. The chart below is the ETF, weekly, for the Homebuilders. When is the home-owners mess and the foreclosure disaster going to bottom out and thereby give us a rest? Not quite yet, it seems.
Studying the weekly chart, we note that XHB recorded its low back on January 9. From there it rallied into early-May, only to decline to its current area around 18. On this latest decline RSI has not dropped back to 30, which could actually be a sign of strength. The histograms are negative and as yet shown no sign of contracting toward zero. The full stochastics at the bottom of the chart are oversold, but have not yet turned up. Conclusion — a little bit hopeful, but no clear bullish signs yet.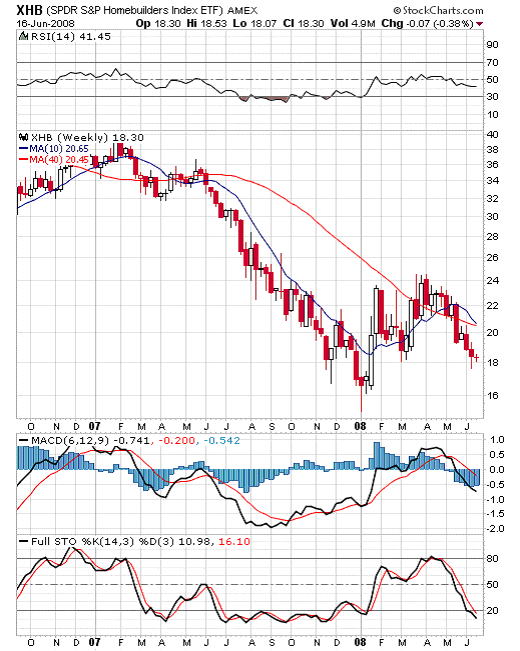 The other sick but critically important sector is the Financials. Below we see a weekly chart of XLF, the Financial exchange traded fund. XLF is trading below both its 10-week and its 40-week moving averages. Weekly RSI showed oversold in January and again in March.
Today RSI is at 39 and may be turning up. MACD could also be in the process of turning up. The full stochastics are just above 20, and they too could be in the process of turning up. A battered but interesting picture.
All of Wall Street is watching and waiting to see whether the Financials (banks) have discounted the worst. I'd wait a little while longer. A few of the big banks, JP Morgan, Wells Fargo, look attractive (good dividends to boot, check 'em out on Big Charts).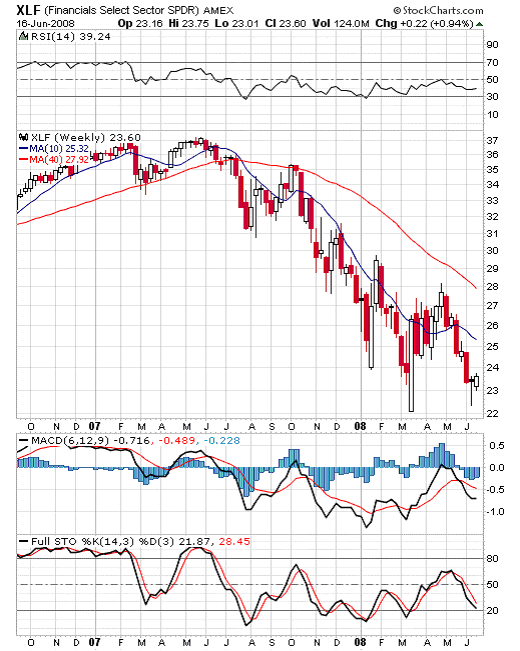 The third weekly chart for today is the S&P 500, the standard by which most funds judge themselves. The S&P is currently trading below both its 10-week and 40-week moving averages. RSI is at 46 which is just below neutral. The histograms, after being overbought at 20, have just dropped below zero into negative territory. The full stochastics are heading down from the overbought area.
The S&P may be trying to stabilize here, but I don't trust it enough to buy. I'd like to see the S&Ps drop to full oversold, and at the same time hold above its March low. Lately, the S&Ps have embarked on a sort of halfhearted, low-volume rally.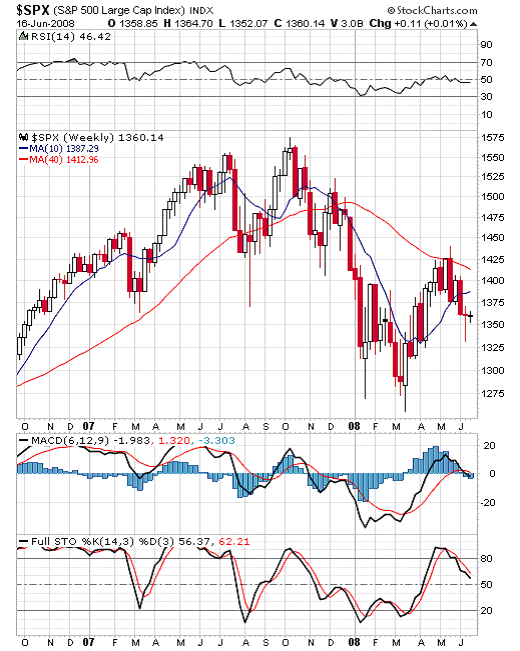 Richard Russell