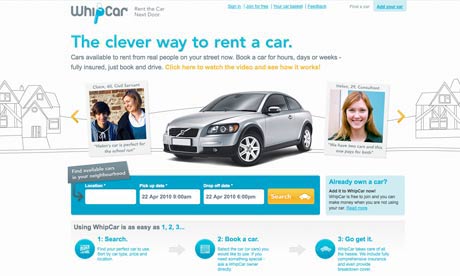 I sort of get an idea today that alot of things we don't use so often we can actually recurperate by loaning it as a service to people that needs it more. Saw this off Tan Kin Lian's site and thought its a novel concept.

But will it work in Singapore?

What if the person tries to steal the car? Will the insurance cover it?

What if the neighbor damages the car? I suppose the insurance will need to cover it?

What do you guys think?
—
Car owners can turn their motors from being a drain on their finances to a money-making prospect following the launch of a website which allows them to rent out their vehicle when they are not using it.
WhipCar, which opened for business this week, allows motorists to register their car to rent for anything from a few hours to weeks at a time to people in their neighbourhood.
It is free to register and renting out your car has no impact on your own insurance, according to the website's founder Vinay Gupta.
He said that according to DVLA figures the UK currently has 29m registered cars on the road, and cited a report by New Scientist which said many were used for less than an hour a day.
With the average cost of ownership now £5,523 a year, according to the RAC, Gupta said that for many people a car was their "most valuable idle asset".
"Our research has shown that there are many people who would be happy to pay for car rental services if they could be delivered locally," he said.
"WhipCar enables owners to put their cars to work, and for those in need they can literally rent the car next door."
WhipCar is initially only operating in London, but Gupta said he hoped to roll the service out to the rest of the country in a few weeks.
He said that unlike traditional car rental operations his scheme did not need a high concentration of potential users to make it work. "You could be the only car owner in the village and put your car up for rent to provide a service for you neighbourhood," he said.
How it works
To take part, a car owner registers his or her details and decides how much to charge for an hour or a day.
Cars must be no more than eight years old, have a valid MOT and road tax, existing insurance, and be clean and in good condition. WhipCar carries out checks to make sure the car is roadworthy and has not been stolen. It is then advertised on the site.
Rental charges are paid into the owner's bank account each month after WhipCar has deducted a 15% commission.
Cars may not be rented by anyone under the age of 21 or over 70, or anyone with more than six penalty points on their licence, a drink-driving conviction within the last five years, or any convictions relating to driving without insurance. They must also have had no more than two accidents in the past three years.
Renters also have to register with the site, and WhipCar checks their age, licence details and whether they have any convictions. They pay the agreed hourly or daily cost, plus a charge for fully comprehensive insurance on the vehicle and a £2.50 charge which goes to WhipCar.
Gupta said: "Claiming against this insurance does not affect the owner's normal car insurance; the no claims bonus will not be affected. Also, if a courtesy car is needed this will be extended to the renter for the remaining rental period, then to the owner until the car is repaired or replaced."
Once someone applies to rent a car, the vehicle owner is sent an email and text alert containing his or her details, a photo, their hire history and a feedback form other car owners.
The owner can reject a rental application and can make stipulations, such as maximum mileage or no smokers only.
Once the booking is accepted the renter is sent details of where to meet the owner, who is given the last four digits of the renter's driving licence to verify identity.